HAZARD SIGNS
As a specific environment the high mountain entails multiple hazards that can be obvious or unpredictable. It is essential to use the highest caution and act in a responsible way in the high alpine: it is not secured, unsupervised and dangers are unmarked.
Below are the different signs used in these areas. They point out the main expected hazards.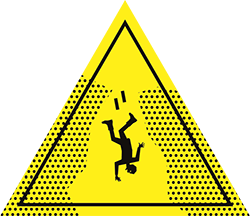 It is a hole that varies in width (up to 20m) and depth (up to 80m). Crevasses can be seen on the surface of the glacier, but can also be hidden beneath glacier surface. Its sides are made of snow and/or ice and can be slippery.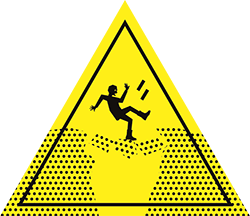 A snow bridge is a layer of compact snow, under which hides a crevasse. It varies in thickness and strength. It can break under the weight of a person, resulting in a potentially dangerous fall, deep into the crevasse.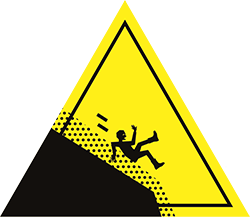 Made of snow, ice and hard snowfields (compacted remaining snow patches in summer), wet rock, etc., terrain in the high alpine can be extremely slippery in specific conditions. Even on a low angle slope, a fall can lead to a long slide and eventually dangerous and chaotic terrain.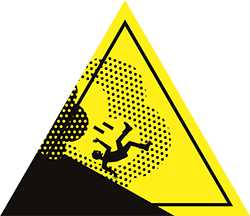 An avalanche is caused by a lose amount of snow, sliding down the mountain side. It can occur on low-angled and steep slopes, and can be naturally triggered or caused by a person or a group. This hazard remains high after a snow fall in summer.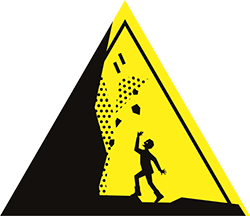 A serac is a gigantic block of ice (size may vary, from a car or a full-size building), which can collapse at any time and suddenly under its own weight.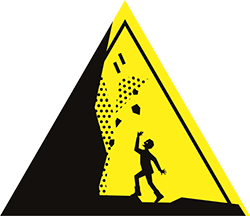 Unstable rock slabs and blocks can suddenly break loose from a rock face or mountain side made of scree (e.i glacier moraine). The result is a rock and dirt avalanche roaming at high speed down the mountain side.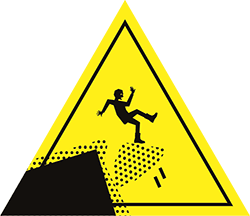 Formed by wind, a cornice is made of compact snow and ice. It overhangs a ridge line, high above the mountain face. It can collapse in a very unpredictable way, naturally or under a person's weight.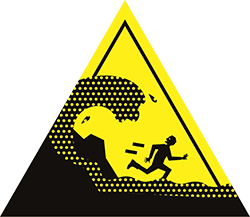 The flow of a mountain creek or river can suddenly increase and carry everything downstream along the way.